Posted in
TILs
by Patricia on August 20, 2014
Assistive Touch is a great and highly appreciated iOS feature that every iPhone user should know about. Although many of us aren't going to use it too often, it's important to be aware of it and know how it works!
Assistive Touch is very handy when you are in trouble using your iPhone's buttons and most helpful when you aren't able to touch the screen of an iOS device. This means that you can use Assistive Touch to command your iPhone, if one or more of your buttons crash.
Assistive Touch is designed though, to work most efficiently, in conjunction with 3rd party accessories, to aid people with disabilities while using an iPhone, iPad or iPod. This way disabled people are able to use all features of an iOS device without needing to touch the screen or press device buttons.
How To Enable
Assistive Touch can be enabled from the Settings menu. Tap General, Accessibility and scroll for Assistive Touch. Next, press the ON/OFF switch and you'll notice a digital home button appearing on your screen, the Assistive Touch button. That's the Assistive Touch Menu Button. You can drag and place it anywhere on the screen. Optimal position, from our experience, is bottom right screen corner if you're right-handed, bottom left for left-handers.
How It Works
After you activate Assistive Touch you can proceed with using it, by tapping on its menu button. Once you do, a pop-up with the Main Menu appears on your screen and you have four selections available:
– Siri: tap on the microphone symbol and iPhone's virtual assistant will jump to your help.
– Device: opens a secondary menu that allows you to: Adjust Device Volume, Mute, Lock Screen, Rotate Screen or open a 3rd level menu branch by tapping More. More Menu branch provides the options to: access Gestures, perform a Screenshot, open Multitasking and Shake device.
– Home: brings up the Home Screen.
– Favorites: provides access to your favorite Gestures. Gestures are pre-recorded swipes and/or taps that can be activated, when needed, with a simple click or tap. They are particularly handy when disabled individuals are not able to swipe or flick to provide a certain iPhone command. Instead they can use the Gestures option commanded via a 3rd party accessory.
Accessories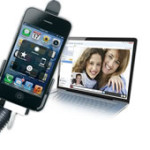 People with disabilities can use an iPhone, via Assistive Touch, with the help of 3rd party accessories. This is accomplished with the help of a joystick or a switch. Basically, a Mouse Mover controlled with the help of a joystick is used to navigate and command the iOS device, via the Assistive Touch menu.
Currently there are two recommended by Apple:
– iPortal: offered by Dynamic Controls, provides features like Mouse Mover and Accessibility.
– Connect & Blue2 Switch: accessories provided by Ablenet.
Conclusion
Assistive Touch is a very useful iPhone tool for individuals with disabilities, offering them the opportunity to use an iOS device, relatively easy. It could be a very useful tool for all of us, if our iPhone home button, or any other button is experiencing problems. Their functions can be easily replaced by the Assistive Touch option! Another hidden feature that helps users with physical limitations to operate an iOS device is Switch Control.
Assistive Touch Tutorial
Our team has created the following video tutorial about iOS Assistive Touch. Watch it and learn how to turn it ON and see a demo of this highly useful iPhone tool.