Posted in
How To
by Vlad on November 19, 2014
Studies come up with contradictory results when it comes to cell phone radiation. No direct link has been yet established between prolonged radio frequency exposure and a fatal illness, but it's common sense to claim that extended smartphone radiation exposure can't bring any benefits!
There are numerous cases when mobile phone users complain of headaches, dizziness and even a sudden onset of fatigue after long lasting cell phone calls. Nowadays, with the exponential growth of smartphone popularity, radio frequency exposure went up a notch, because of the combination of multiple transmissions. Besides regular electromagnetic wave bombarding caused by the carrier voice signal, exposure is amplified by cellular data network connection, WiFi connectivity, Bluetooth emitters and GPS tracking.
Considering that iPhones are in the lower range, when it comes to the radio frequency safe zone, I've written this article to teach iOS users about how to considerably lower their smartphone radiation exposure and avoid any potential health threats. The Specific Absorbtion Rate (SAR) of all iPhone models has constantly been closer to the upper edge of the Federal Communications Community (FCC) legislation limit. When adding that many specialists claim that those limits are outdated because they where set decades ago, when human RF exposure was considerably lower, the importance of common sense safety measures stands out!
13 Tricks For Lowering iPhone Radiation Exposure
The following tips are based on proven facts that lead to reduced radio frequency exposure. Researches confirm that smartphone radiation is:
– exponentially reduced when distance between user and generator increases;
– obviously lowered the shorter the duration of the exposure;
– considerably diminished when using 3rd party accessories for protection.
So, here is the best compilation of tips that help you lower iPhone radiation exposure: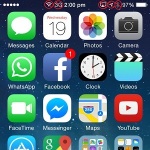 1. Avoid Multiple Transmissions
This is perhaps one of the most important tip for lowering iPhone RF exposure. Always turn off additional transmissions, like WiFi, Bluetooth, GPS or data connections when not needed. Besides being important battery drainers they also dramatically increase your device's radiation emissions. The latest iPhone models (iPhone 6 and 6 Plus) are known to reach SAR values of up to 1.59 W/kg when all their transmitters are enabled. The limit is 1.60 W/kg! If multiple transmission aren't enabled SAR decreases by up to 40%.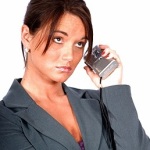 2. Every Inch Counts
If you answer to a call normally, you'll bring the iPhone to your ear and engage in a conversation.
A useful trick is to set volume levels to maximum and hold the device, 2 or 3 inches (5 – 10 centimeters) away from your ear.
As mentioned above, cell phone radiation decreases exponentially when distance between phone and body is increased.
Every inch counts!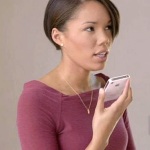 3. Automatic Speaker Mode
A clever trick that you have to use! Whenever you're alone in your office, or have the opportunity to talk using your iPhone's Speaker mode, do it! This allows you to hold your iOS device at a considerable distance from your body and still have a quality voice call. Visit iOS Settings -> General -> Accessibility -> Call Audio Routing and select Speaker. This trick automatically enables Speaker mode when engaging a call! Do mind, that using this tip in bathrooms, staircase or any other locations that create echo will affect the quality of your conversation.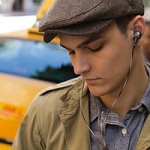 4. Use Headphones
Another good option for keeping your iPhone away from your head is to use headphones. You can opt for the original Apple EarPods with remote and microphone or purchase any other headphones that you fancy. If they don't have an incorporated microphone you'll have to talk into your iPhone's microphone to make yourself understood. However, this still allows you to keep a comfortable distance of at least 3 feet (1 meters), from your radiating device.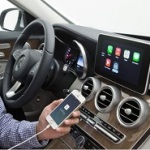 5. Apple CarPlay
When driving your car, definitely use Apple Car Play or any other Bluetooth interface that allows you to connect your iPhone with your car. This way you can answer or start voice conversations using your car's built-in speakers and microphones.
Your device can be placed away from your body.
This doesn't only lower your RF exposure, but also promotes safe driving conditions.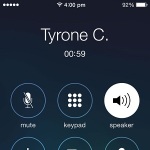 6. Brief Calls
If none of the above tips can be applied, your next option to lower radiation exposure is to shorten the duration of your calls. Try to be as brief as possible and maintain a call duration of under a minute. To buy yourself a few extra seconds hold your iPhone in your hand while the call is dialed and bring it up to your ear only when your call is answered. You can notice this with the help of the call duration timer. It starts only when the receiver picks up your call.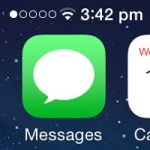 7. Poor Carrier Signal
Studies have shown that iPhone radiation significantly increases when a call is ongoing and your device has low signal reception. The smartphone antenna has to perform extra work to establish communication with the cell tower and will increase RF exposure on the user. Avoid making or taking calls when in a low signal area, especially if you have to hold the iPhone next to your ear. In these cases your iOS device will radiate more and burn additional battery even in standby mode, because it will search more often for cellular signal.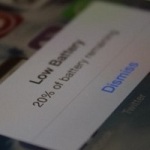 8. Low Battery Levels
Some iPhone fans claim that they 'feel' the side effects of increased electromagnetic radiation levels, when the battery of their device is low. However, this claim isn't backed by any scientific study, so far. To play safe and avoid this problem, make sure that your iPhone battery percentage remains constantly above the 20% limit. This doesn't only protect you from additional RF exposure, but also ensures that your battery's voltage level doesn't drop too much. Lifespan of lithium-ion batteries is prolonged this way.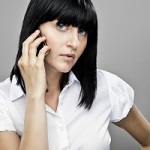 9. Avoid Fatigued Calls
People have different resistance levels. Those sensible to radio frequency exposure experience headaches, onset of fatigue and even dizziness when engaging in long cell phone calls.
According to their reports the human body is even more vulnerable to smartphone radiation if prolonged exposure occurs when they're tired. This is why I recommend you to avoid calls with your iPhone glued to your ear, when you're tired and sleepy.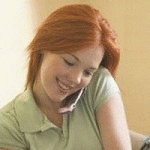 10. Balanced Exposure
This tip also assumes that you are forced to bring up the iPhone to your ear when speaking. Besides controlling call duration, you can also try a balanced radio frequency exposure. I mean that you can switch the device from one ear to another in order to avoid prolonged exposure of a single part of your head. Remember, to keep the device a few inches away from the ear and NOT tucked against shoulder and head as the lady does in the nearby animation!
11. Empty Pockets
Your smartphone is emitting electromagnetic waves even when in locked mode. This is why it's important to get it out of your pockets, when possible. If you're at the office place it on your desk at least 3 feet away (1 meter) from your body.
At home, you can keep it even at a greater distance when you're not using it. While on the move, avoid placing it in the pockets of your skinny jeans, or any clothing that fits very tight on your body.
12. Exposure-Free Nights
Specialists recommend you to stay from any electromagnetic wave emitting devices when sleeping. Smartphones and all other gadgets are included in this category too. Please keep your iPhone at least 6 feet (2 meters) away from your bed. It would be ideal to store it in a different room, but you risk not to hear its wakeup alarm.
If possible, enable Airplane Mode whenever you go to bed. This will kill all transmissions and ensure that you have a radiation-free night.
13. Cases for Radiation Protection
One last trick that considerably lowers cell phone radiation exposure is achieved with the help of a 3rd party accessory. Yes, I'm talking about specially designed iPhone cases that have the role to redirect radiation away from your head. An example, is the Pong case that uses FCC-certified technology. Studies show that it lowers RF exposure up to 5x times below the SAR limit and in the same time enhances your iPhone signal, with the help of a micro-thin gold antenna embedded in the case.