Posted in
How To
by Tyrone on June 3, 2015
The Watch OS device comes with a cool feature that allows users to wake it up with a natural flick of the wrist. This setting is enabled by default, after you
set up the Apple Watch
and pair it with an iPhone. The smartwatch's built-in accelerometer is used to detect the movement of your wrist and light up the screen accordingly.
Activate on Wrist Raise
works both ways, meaning that it also automatically turns off the wearable's display when you lower our hand.
Apple has done a great job with this feature, because the gesture trick works almost flawless, when you're using it in normal circumstances. The very few times when it happened, that the wrist gadget's screen, failed to turn on, was when performing a hand raise while lying in bed or in some other unconventional position. On the other hand, your Apple Watch will experience plenty of display activations in vain, when you move your wrist, during daily activities without aiming to check the Watch Face.
Why To Use Activate On Wrist Raise?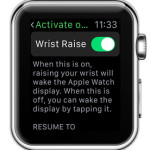 The Apple Watch is not the common timepiece, it's a smarwatch, or better said a mini-computer strapped on your wrist. This means that it's power consumption is much more significant than your regular watch. True, its battery is also bigger, but the effort to light up the display and perform the multitude of tasks that the Watch OS is able to handle, makes battery a resource that has to be wisely managed. This means that the Watch's screen can't be glowing continuously. For battery efficiency the screen needs to wake only when the user interacts with it, the same as your iPhone or iPad do. However, there is an alternative for the automated Activate on Wrist Raise feature.
Tap To Wake and Cover To Sleep Apple Watch

I'm talking about the manual option of waking your wearable. If Activate on Wrist Raise is disabled, or your wrist is already flicked and you don't want to repeat the gesture you can tap the Watch's screen to light it up. When you finish toying with your gadget, cover the display with your hand to switch it off. It's the same gesture trick that allows you to mute an incoming Apple Watch call.
Do note though, that the screen of your wearable will switch on for a longer time, if you use tap to wake instead of the automatic wrist raise feature. For example, if you manually switch on the display to check the time, it will continue to glow for exactly 20 seconds before going black, compared to the instant shutdown when your lower your wrist, while using Activate on Wrist Raise.
How To Disable/Enable Activate On Wrist Raise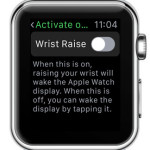 If you think that the false automatic activations caused by daily unintentional wrist flicks considerably drain your battery, or you simple enjoy more the manual tap and cover gestures you can easily switch off the Activate on Wrist Raise feature. Flick your wrist and press the Digital Crown until you reach the Watch OS app bundle. Tap on Settings -> General -> Activate on Wrist Raise and press the Wrist Raise knob. Repeat the process if you reconsider and wish to re-enable the automatic wake up trick.
Fact: You can also tweak this setting from the Apple Watch app on your iPhone. Browse to My Watch -> General -> Activate on Wrist Raise.
Wrist Raise Apple Watch Settings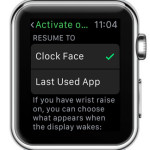 I also need to mention that this handy feature has a customization setting. You can choose what your smartwatch displays when its woken up by your arm raise. It can either be the Watch Face or the Last Used App. From my experience, I recommend you to go for the Watch Face. It's the screen that you usually like to see the most fequently, because it provides info about the current time and also displays your favorite complications, with updated data and a single tap away from your favorite apps. More, while on Watch Face you can also use the Apple Watch multitasking trick and immediatley reach the Last Used App view!
Important: Don't confuse Activate on Wrist Raise with Wrist Detection. They're two different features. The second one uses Apple's sensor to detect if the Watch is worn on the user's wrist or not, to control the device's lock and unlock status.