Posted in
How To
by Patricia on November 3, 2017
The
TrueDepth
camera system, embedded in the front notch of the
iPhone X
, isn't used just for
Face ID
usage. The revolutionary facial mapping system also powers the
Animoji
feature, which comes as another exclusive characteristic of the
iPhone 'Ten'
. As the name suggest, Animojis are animated emojis that come to life to reflect your facial expressions in real-time!
This means that you can speak, sing or shout while performing hilarious grimaces and the chosen character will mimic and record your voice. More, all these charades can be shared via social media or sent to an iOS contact with the help of the iMessage system. Animoji clips can be recorded on the iPhone X only, but they can be played on any iPhone or iPad that's running iOS 11 or later.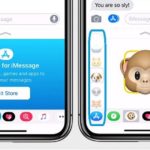 5 Steps To Record & Send Animoji Clips
1. Unlock the iPhone X and tap on the stock Messages app, available on the Home screen.
2. Open an existing conversation, or start typing a new message. Tap on the iMessage App Store logo, available in the bottom app scrubber.
3. Tap the Monkey-face icon which opens up the Animoji app.
4. Scroll the vertical scrubber available on the left side of the screen and choose the desired Animoji.
5. Touch and hold the red Record button to capture and send a recording. Speak out and perform funny grimaces to entertain your audience!
Fact: Currently an Animoji clip can have a maximum length if 10 seconds, but you can workaround this limitation with the help of the iPhone's Screen Recording feature!
Tip: Tap the selected Animoji to send a photo of it to your iMessage conversation partner.
Available Animoji Characters
The initial version of the iOS 11 Animoji feature includes 12 characters, but considering its early success, I'm sure that Apple will add other animated emojis too!
The ones available right now are: a fox, a monkey, a mouse, an alien, a robot, a pig, an unicorn, a dog, a panda, a chicken, and a poop emoji.
Related: Are you aware that about 70+ new emojis have been added by Apple along the iOS 11.1 software update?